Here are some of our clients and their catches here at Clondanagh Cottage Bed and Breakfast and Angling Centre in Tulla, Co Clare, Ireland. Please wait for all the images to load!
Guests at Clondanagh Left to right
Frank Lythgoe Sec. Warrington Angling Club,
Dave Houghton www.activeirishangling.com
Pete Quilliam  Altrincham Angling Club
Bill Delves Sec. St.Helens Angling Ass.
John Deas Sec. Altrincham Angling Club
Dean Weston, Jim Monaghan and Pete Jenkinson of Altrincham Angling Club.
John Deas Sec. Altrincham Angling Club
With a "superb" catch Clondanagh Lake
Johnny from Belgium Clondanagh Lake
Fiachra McCloskey on Clondanagh Lake
Steve Taylor East Clare River
Luke Taylor East Clare Tench Fishery
Mark from Belgium East Clare Lake
Paul Worthington East Clare
Gerry Abbott East Clare Lake
Mike Fairhurst East Clare Lake
Mike Fairhurst East Clare Lake
David Traynor East Clare  Lake
Jan Lyle on Clondanagh Lake
Mark from Belgium Clondanagh Lake
Dirk from Belgium, Clondanagh Lake
Paul and Vinnie Foster -UK, Clondanagh Lake
The Leeds Anglers at Clondanagh Cottage,
Muriel, Patricia,George, Jimmy, Arthur, Mick, Julie, Dave and Debbie
"The Fishing Awards Cermony" at Clondanagh
Mick and Jimmy from Leeds
Steve Hanson - Clondanagh lake
Mick Johnson - Clondanagh lake
Dave and John, Lancaster - East Clare fishery
Alan Crain, Cambridgeshire - Clondanagh Lake
Clint Gumbs, Cambridgeshire -Clondanagh Lake
Johnny from Belgium with 19lb pike East Clare Lake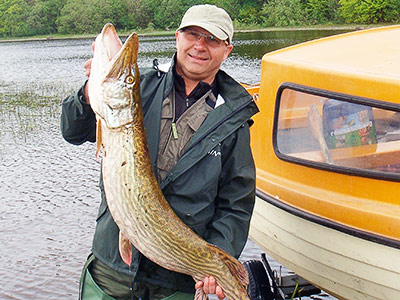 Mark from Belgium with 22lb pike East Clare Lake
Kris from Belgium with a hybrid East Clare Lake